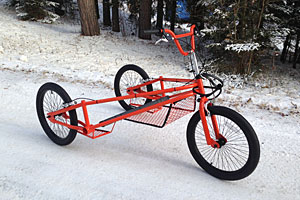 Welcome to ÅrticRigs™ — Since 1993 A company designed to bring the joys of the wonderful world of working dogs to you, at prices you can afford. Here you can find a variety of canine-powered vehicles that can be customized to your liking. Need help getting started or choosing the right rig for your team? find out more information about the ÅrticRigs™ team and their affiliates in the "About Us" section.
• Get details and pricing, or
• Contact us with questions or ordering information.
Sincerely,
Chris and the ÅrticRigs™ Staff
Ps. don't forget to check out the Racing Rig agility video.
Note: the dryland racing cart in these photos is shown with two upgrade options:
1) Rig Bridle with Shock Cord and 2) 64 Spoke, Radial-Laced Heavy Wall Rims.