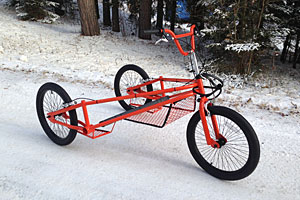 Welcome to ÅrticRigs™ — Since 1993 A company designed to bring the joys of the wonderful world of working dogs to you, at prices you can afford. Here you can find a variety of canine-powered vehicles that can be customized to your liking. Need help getting started or choosing the right rig for your team? find out more information about the ÅrticRigs™ team and their affiliates in the "About Us" section.
• Get details and pricing, or
• Contact us with questions or ordering information.
Sincerely,
Chris and the ÅrticRigs™ Staff
Ps. don't forget to check out the Racing Rig agility video.
Note: the dryland racing cart in these photos is shown with two upgrade options:
1) Rig Bridle with Shock Cord and 2) 64 Spoke, Radial-Laced Heavy Wall Rims.

ArticRigs is excited to announce that it is now producing the R1 dryland rig, originally offered in the early 90's. One benefit of this popular model is that it can be disassembled and flat-packed, greatly reducing shipping costs around the globe. In some cases, shipping can be reduced by one-half or more. The R1 is also available with a "frame-only" option, further reducing purchase price and shipping costs. If you're interested in learning more about the R1, please contact us.
If you've never experienced urban mushing, we have a treat for you. Hop on this ArticRig urban mushing dog cart while Marla BB takes you for a quick, "fast" spin with her 6 dog team.